It's not a stretch to say that moving to Reno will be unlike anything you've ever experienced before.
The Reno Arch, on which our famous slogan, "The Biggest Little City in the World" is written, was originally built to advertise the Nevada Transcontinental Highway Exposition in 1926 - a big deal for a small little desert town.
Rather than tear down the perfectly good arch, the city fathers held a contest, offering $100 (a lot of money back then) for a slogan to replace the exposition name and date on the arch.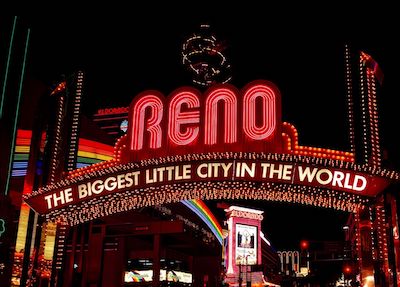 The winner, G.A. Burns of Sacramento earned his place in the annals of history...not to mention the $100 dollars...and "The Biggest Little City in the World" became the city's slogan.
Now that you know a bit of our city's history, let's move on to the 5 stages of moving to Reno that you'll experience when making Reno your new home.
DENIAL
Whatever brought you to Reno...new job, as a result of Reno's tech boom, marriage or maybe school...one of the first stages you'll go through when moving to Reno is denial.
Because Reno can be so different, until you get your footing, you may start to wonder what in the world you've done. When your friends and family back home ask "what is it like living in Reno", you might find it hard to come up with the right words.
You could talk about the cost of living in Reno, the great places to eat, the quirky bars like any of the Bully's Sports Bars, but it's not easy to capture the real essence of living in The Biggest Little City, so you might find your descriptions lacking.
The safest bet?
Tell them to come for a visit and see for themselves what makes us such a great place to work and live!
SURPRISE
Once you've been here for a short while, your denial will slowly morph into surprise...especially when you visit our state's natural beauty.
Take a hike in the beautiful Tahoe National Forest and you'll see what I mean.
One thing is certain, after hiking through hills of heavy forest, soaking up the sweet vanilla scent of Jeffrey Pines and pushing through Cottonwood, Elm, Pinion and Ash trees, you'll be shocked when you reach the vast expanse of desert in less than half an hour.
It's almost like a different world…
ACCEPTANCE
Now that you've seen the sights - both natural and man-made - you start to feel more comfortable in your new home.
When friends and family drop by you take them to your favorite points of interest in Reno. They'll be amazed at how quickly you've adapted and grateful that they got to see the "true" Reno, and didn't have to settle for the typical "tourist traps".
PLANTED
It's been said over and over again… "once you move here, you ARE here!"
Or, put another way, you can get out of Reno, but you can't get Reno out of you! If you ever leave you'll be drawn back by our beautiful lakes, mountains, wild horses, tiny towns and the artistic feel of the Midtown area.
And of course, let's not forget the huge industries moving into town and becoming invested in its growth.
Even the Reno real estate market, which fell prey to 2008's bust, is coming back stronger than ever...in large part because of the influx of a diverse range of industries and people moving into town.
ADVOCATE
After living here for several years, perhaps raising a family or starting a business, you become an advocate for Reno.
You can't think of anywhere else you want to live, and you urge your friends and family to move here too...sharing stories of the fun you've had and talking about all of the great times you can share when they move here.
THE TIME IS NOW!
If you've been thinking of moving to Reno, there's no better time, than the present!
Contact us today - we can help you find the perfect home and get settled in what you'll soon come to consider the most perfect place to live on Earth!