Although officially established in 1868, Reno's history begins much earlier.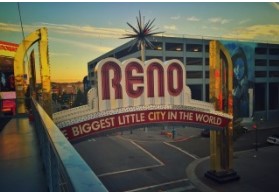 In the late 1840s and 50s, it started as a preferred crossing point for travelers headed to the California gold rush over the Truckee River, an inland river that flows eastward, from Lake Tahoe to Pyramid Lake.
Then, in 1859 the Comstock Lode was discovered in the nearby Virginia City foothills, making the river crossing even more important for the growing mining and agriculture trade.
Reno was officially put on the map nearly a decade later, in 1868, when the transcontinental railroad followed the Truckee River into town.
The University of Nevada was founded in 1874 as a land-grant university, and in 1885, its primary campus was built on a hill overlooking Reno from the north.
The University has always played a key part in the history of Reno, as it contributes to the town's identity and established Reno's reputation as a cultural center.
This is seen in the large number of cultured amenities for a city of its size, which contributed to Reno's nickname, "Biggest Little City in the World."
At the turn of the 19th century, Reno became a destination for quick divorces and three decades later, a prototype for modern hotel/casino gaming.
The transcontinental Lincoln Highway, now known as 4th street, passed through the heart of downtown and Reno's moderately sized destination hotel/casinos and retail stores were parked along the primary north/south road through Reno known as Virginia Street.
On either side of the Virginia Street core, motor lodges were built in response to the growing post-war automobile tourism.
Until recently, when large technology industries chose Reno as their headquarters, tourism and the gaming/entertainment industry were the core industries for most of the 20th century.
MORE FACTS ABOUT RENO
If you go by the assumption that "licensing" is required for a casino to be considered the first casino in Reno, then it would have to be The Owl Club - it was the first licensed casino in Reno after gambling was legalized in the 30s.
Other casinos, such as The Northern Club and The Bank Club, also became "official" after many years of illegal gambling.
Fast forward to today, we've got much more than gambling and shows in Reno...we're a bustling metropolis. Every conceivable amenity can be found here, yet we still retain the flavor of our past...something Reno natives greatly enjoy.
July is known as Artown month in Reno. For the entire month, residents and visitors enjoy a vast display of art, music, dance and other cultural experiences.
The Truckee River is host to the Oxbow Nature Study Park, one of the few remaining fairly intact riparian areas. It holds an interpretive center, a pond with an overlook (Beaver Pond) and short trails passing through cottonwood and other trees and brushes.
In the summer, kids can play in the water at one of seven parks:
Idlewild's Lion Den Playground
Yori
Las Brisas
Summit Ridge
Wheatland
Panther Valley
Silver Lake
Present day Reno still has echoes of the spirited, independent individuals who built this city, bent on securing their fortunes and making a name for themselves in America's frontier.
If you've been thinking about moving to Reno, you'll need someone who can help you find the perfect home in the best location.
We can help. Contact us when you start planning your move to Reno so you can get settled in quickly and start enjoying all that Reno has to offer.